---
Customer Reviews
09/17/2019
A boo-tiful hug
This candy-corn & ghost design is super cute and perfect for my upcoming Halloween 5k. I can't wait to wear it!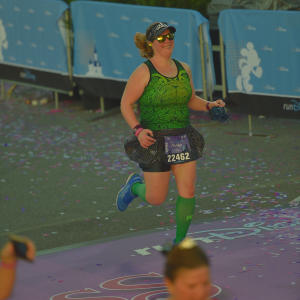 BC
Beth C.
07/03/2018
Halloween!
The fit and fabric of this racer is great! I've gotten lots of compliments on it at the gym!
06/28/2018
Trick or Treat
This is my October shirt and yes I wear it in July too because it's just fun. I teach Spin at my gym and I love to wear this around Halloween although it makes my class think about candy. Super super cute. I also wear it to go trick or treating with my kids. Neighbors expect to see me in this one or other halloween raw threads. Love this company. The shirts are super soft, perfect for hanging out in or working out in. They wash well and are durable. The black racerbacks have a more fitted feel so I can buy them as XS or S as I'm petite, however the colored shirts such as the blues I tend to buy only as XS as they tend to have a looser fit and are longer. Can't go wrong with this awesome shirt!
01/18/2018
Can I wear it all year?
I've been fortunate enough to own this tank for two years and every year I look forward to wearing it to my October races. I've never seen anything cuter than a ghost and candy corn hugging! Love how fitted that tank is!